New Principles of Fire Investigation Certificate
Credential Appropriate for Both New and Experienced Investigators Can Be Earned Online
The International Association of Arson Investigators is pleased to announce that CFITrainer.Net now offers a special professional certificate, "Principles of Fire Investigation," for completing online learning modules covering the most essential skills and knowledge a fire investigator must possess. The certificate is appropriate for both new and experienced investigators, as it covers core skills that must be mastered and practiced throughout a career.
Earning the "Principles of Fire Investigation" certificate requires completing twenty CFITrainer.Net modules covering a variety of essential topics related to fire investigation, including: scene safety, the scientific method, building systems, fire flow analysis, interviewing, evidence collection, report writing, and testifying. It is an extraordinary collection of high-quality, vetted, practical training in the most fundamental fire investigation knowledge and skills. The certificate is an unmatched online learning opportunity for new fire investigators who want to build a solid foundation and for experienced investigators who are committed to constantly improving their skills and knowledge. The certificate can be downloaded and printed as soon as all programs are completed. The certificate also becomes a part of your permanent CFITrainer.Net transcript, which you can view and download at any time.
"Fire investigation is a complicated and multi-disciplinary job," said Barry M. Grimm, President of the IAAI, "The most important thing we can have as fire investigation professionals is a solid foundation in the many skills required to work a fire case properly." He continued, "And, even if we have years on the job, we have to constantly update our skill set to match the evolution of scientific knowledge and investigative techniques. IAAI knows that budgets and time are tight everywhere, so we felt that offering a professional certificate online on CFITrainer.Net was an effective way for professionals of all experience levels to access critical training in so many core competencies at once."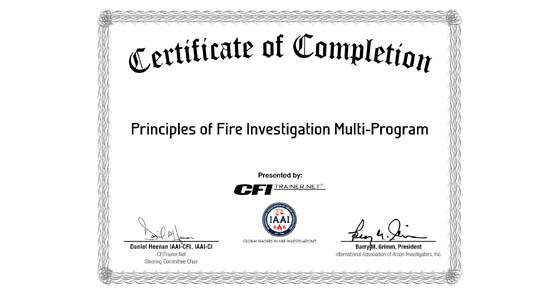 The new certificate is available now and the requirements are listed on the certificate's information page. The certificate is free, supported by a Fire Prevention & Safety Grant from the Federal Emergency Management Agency, U.S. Department of Homeland Security. Some users may discover that they actually have already earned the certificate by previously completing the required online programs, or are very close to earning it. To check their certificate status, users should log into their CFITrainer.Net account and look at the User Console on the left. There will be a series of checkboxes for each program required that will show your progress toward earning the certificate.
In some states and jurisdictions, earning the certificate may count toward fulfilling your continuing education requirements. Print your certificate and present it to your commanding officer so you can discuss how you might receive credit in your department for completing this training. Talk to your chief or training officer about requiring all fire officers to take CFITrainer.Net modules and earn the Principles of Fire Investigation Certificate. Mention the certificate to your colleagues, and encourage them to check out CFITrainer.Net and complete the modules to earn their own certificate. And, share the following link with your social network to make them aware of the certificate opportunity:
https://www.cfitrainer.net/Multi-Program-Certificates/Principles-Of-Fire-Investigation.aspx
To learn more about the certificate and to complete a two-minute registration that allows you to access all CFITrainer.Net programs for free, please visit CFITrainer.Net.
News Archive